Probably one of the most celebrated producers at Loma was Jerry Ragavoy, who was responsible for The Enchanters I paid for the party (Loma 2012), released in early 1965. The group had previously worked with Ragavoy as Garnet Mimms & The Enchanters, but had left Garnet when Loma picked them up and let Samuel Bell take over the lead vocals.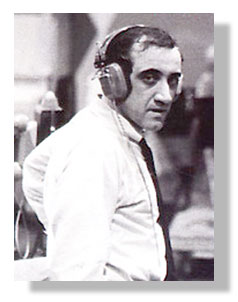 Ragavoy was already employed on a part-time basis by Warner Brothers, and later become full-time with an appointment as A&R man. Ragavoy was also to be the producer for future Enchanters sessions as well as a number of others by Philly's Ben Aiken, Lorraine Ellison, Roy Redmond and Carl Hall.
Ben Aiken was a white lad who later worked for Philly Groove, and a little later cut for Enterprise as 'Big Ben', and I believe under the name Ben Atkins. Lorraine Ellison is well famed for her classic screaming Stay with me, which although not a Loma release, was featured on her first album along with many of her Loma cuts.
Ragavoy used gospel artist Carl Hall on a Northern Soul style uptempo number Mean it baby (Loma 2086), which didn't sell but is still fetching pounds on the Northern Soul market. Carl is now in the New York-based musical The Wiz.
One other artist to be extensively produced by Ragavoy was saxist Lonnie Youngblood who came to Loma via a short spell with the Cameo-Parkway subsidiary Fairmount (soon to be an article in it's own right in a future edition of Hot Buttered Soul). At Fairmount, he cut at least four singles including a version of Wooly bully and the brilliant, self-composed Goodbye Bessie Mae.
Whilst at Fairmount, he had Jimi Hendrix in his backing band, and they cut at least one album between them which even saw release in Aussie Land on the Music For Pleasure label.
After eight months in operation and only one good chart hit, Krasnow looked about for new blood and though missing out again on the chart action, he did acquire three James Brown productions – by Baby Lloyd, Bobby Bennett & The Dynamics, and Walter Foster. Slotted in between these releases was another single by The Olympics - Baby I'm yours / No more will I cry (Loma 2017) with Gene Redd arranging on the flip.
Redd himself was to end up running a label [Red Coach] that is now producing a few collector's items with The Carstairs, Dale Dennard, and The Exceptionals.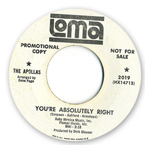 After a year of releases, the departure of Bob Krasnow heralded a new era of Loma with a host of new signings and the drafting in of Dick Glasser direct from Warner's A&R office. The first single was a Northern Soul stomper written by Simpson-Ashford-Armstead for The Apollas– You're absolutely right / Lock me in your heart (Loma 2019), who later cut the Soul concerto single (Loma 2053).
After this single, the label changed its colour from golden-red to orange [editor's note – surely a mistake here?]. Russ Regan appeared in November 1965 as the writer of Tom Dooley by Dick Jensen and The Imports (Loma 2021).
Blues artists still appeared at irregular intervals and just before Christmas 1965, Loma released a re-recording of the Smiley Lewis cut on Imperial The bells are ringing. The next month saw Little Joe Cook of Peanuts fame on Okeh contributing a self-penned item. Cook is, via his records – whether he knows it or not – enjoying a current new lease of life on the Northern Soul circuit.
Texas yields a Huey P. Meaux production with lots of boogie-woogie from Alton Joseph and The Jokers; suggestive, but nice. January 1966 also heralded a new name that is now synonymous with Northern Soul – Leonard Jewel Smith. An article on him, James Carmichael, Jimmy Conwell and David Graham appeared in HBS 44.
Len, credited as Len Jewell, is now selling in the clubs with All my good, good loving on Pzazz, the same label that yielded Little Janice Tyrone. Also worthy of picking up is Len's Bettin' on love, which has appeared on a host of labels including Fontana and Terri De (and a few bootleg labels).
Finally, in January, The Romeos hit out with their Mucho soul (Loma 2028), which is to Belgian Soul clubs what J.J. Jackson's Too late (Loma 2102) is to the UK Northern Soul scene. Worth a penny or two if you can get your hands on it.
By February of 1966, Russ Regan was fully into production jobs and he was responsible for Ray Johnson's jazzy Sherry's party (Loma 2030) and the Mac (Dr John) Rebennack-penned Back in circulation for Hawaiian-based Dick Jensen. It's also believed that Mac was also one of the musicians of the session.
Finally, in the same month, local singer Charles Thomas recorded a Northern Soul item, The man with the golden touch (Loma 2031).
Recordings by The Invincibles, Frankie Love and Paul Days came and went as unfortunately did items by The Enchanters, The G-Clefs and The Autographs, who were soon due to move on to better things. The G-Clefs did manage to release one more single – I can't stand it / Whirlwind (Loma 2048) – but since their I understand in 1961, had changed line-up so many times that it's doubtful if any of the records for Loma ever saw any chart action.
Ike & Tina's backing track for Somebody needs you (Loma 2015) was given a further lease of life on Larry Laster's Go for yourself (Loma 2043) and featured on tracks by Larry Atkins on Highland, and twice by Ty Karim on Caramel (Ed's note: Car-A-mel). Also, The Enchanters backing track on You were meant to be my baby (Loma 2035) appears again on Ben Aiken's version of the same song (Loma 2069). In the same way, the backing track to the flip of Loma 2035 is also used on Ben's version of God bless the girl and me.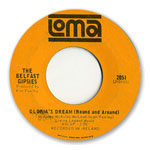 In July 1966, Loma released its first imported single – an Irish recording by The Belfast Gipsies called Gloria's dream (Loma 2051). Kim Fowley produced the single and it's more than certain the Gipsies were Van Morrison and his band. Van was lead singer with Them, an Irish group from Belfast that had hits with Here comes the night and Gloria on British Decca.
Shortly after the group's second 45 on Loma was released - Portland Town / People, let's freak out (Loma 2060) - Van Morrison signed a recording contract with Warner Brothers. Neither single saw release in the UK as it was only released in the US, and licensed out to Japan and South America.
Restricted release deals were rare at Loma; the only other notable restricted release was of James Cotton's 45 – Complete this order / Layin' in the weeds (Loma 2042) – which was sold specifically in Chicago, and the single is pretty rare.
Nearly a dozen more singles were released in '66 including outings by Bobby Freeman; a direct crib of Tommy Tucker's High heal sneakers by Barry 'Barefoot' Beefus; a Kim Fowley song Lights (Loma 2064) on a white label only, available in the US and Canada; and a poor freaky outing by Limey and The Yanks.
Better was to come in 1967, as the first release by the strangely named Lukas Lollipop heralded in the New Year. The top deck, Don't hold on to someone (Who don't love you) (Loma 2067) was penned by the Burke Brothers, and the vocal is too much like Solomon Burke to be true! Either a damned fine sound-alike or some very careful moonlighting was apparent. Boom Records leased Tony Amaro's Hey baby to Loma and the flip is good stomping material (Loma 2068).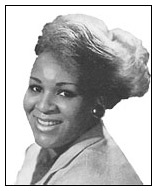 Apart from items by Roy Redmond and Ben Aiken, the majority of 1967 was taken up with releases by two fine soul femmes – Linda Jones and Lorraine Ellison. Both have been idolised by deep soul fans worldwide and little needs to be said on their performances. Towards the end of the year the third of Loma's big names released an aptly titled Down, but not out.
The singer, J.J. Jackson, is one of those artists who have been on so many labels that discographers get nightmares just thinking about it. He released four singles in the short time that the label was in existence. The last record on the singles side was by John Wonderling – Midway down / Man of straw (Loma 2106) – and that was transferred onto WB 7242. By now it was the end of September and time had run out, so towards the end of 1968 the label was wound up.
Loma managed to release five albums – three by Redd Foxx, one by Richard 'Groove' Holmes, and one by Ike and Tina Turner. The latter album is a 'Vol 2 recorded live' and as the issue number before this album shows no release, I suppose you could safely assume that this was scheduled to be 'Vol 1 recorded live'. Quite a few of the Loma tracks by Lorraine Ellison were issued on Warner Brothers in album form as were tracks by Linda Jones and J.J. Jackson.
In terms of chart status, Loma was unsuccessful. In terms of 'collector's status', when compared to Okeh, Ric Tic or Golden World, or even GSF, Loma again was a non-starter. In terms of soul acts, writers, arrangers, producers, etc, then the label had it all.
Two of the greatest female singers ever to hop onto the soul train; some of the best Northern Soul stompers ever to come out of a Los Angeles label, apart from Mirwood perhaps; some of today's cream names – Van McCoy, Gene Redd, Gene Page, Bob Krasnow, Jo Armstead, H.B. Barnum, Ashford & Simpson, James Brown and George Kerr.
The session musicians included such luminaries as Eric Gale & Dr John, as well as the sax of Lonnie Youngblood. Even the artists that signed to Loma but never had a release on the label are top names – The Three Degrees, as well as artists that had 'Loma recordings' issued on the parent label – The Marvellos, Ike & Tina Turner, and The Apollas.
Some names, of course, came and went and it would be more than interesting to find out where they are now – Roy Redmond, The Young Lions, Tony Amaro, Larry Laster, The G-Clefs, Paul Days, and The Teen Turbans.
This then was, and is, Loma. An important label, deceased nine years ago, yet in some ways a living legend.
Chris Savory, who presented the BBC Radio programme 'Record Collectors' for 20 years, and published the respected fanzine Hot Buttered Soul, passed away on 1st September 2009, aged 62.
This site is not affiliated to Loma Records or Warner Bros Records, Inc. in any way and is intended solely as a tribute/fan site. Any and all enquiries about 'Discography of Loma Records' should be made through the contact link on the left. © 2007-2023. Discography of Loma Records. This site does not use cookies and gathers no user data.