The following article originally appeared in issue 50 of the music magazine Hot Buttered Soul, published in 1977. It is reproduced here with the kind permission of Chris Savory, who was both author of the article and publisher of the magazine.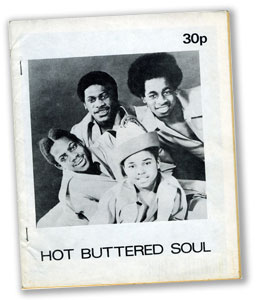 "I had originally intended this article and label listing to appear in the next issue [of Hot Buttered Soul (HBS)] but with UK Warner Brothers releasing a SEVEN volume album set that features 140 tracks from the Loma label I think it appropriate to tie in this article with these releases.
The original idea for this article came from Roy Gelder, who started the ball rolling, along with a lot of info from Martin Koppel, plus the loan of the Loma files from Dave Walters of WEA Records. The seven albums, which are mentioned in detail later, all contain informative sleeve notes and I have combined the general texts of these along with some additional notes to attempt to tell the story."
During the early sixties the music that we now term as soul was rapidly undergoing a vitally needed transfusion. In the late fifties, groups like the doo-wop Flamingos and Moonglows had reigned as kings along with the fledgling Impressions. Vocalists still wailed the blues and Little Richard was still pouring out his hard-hitting, raw rock and roll.
The music needed a change; Gene Chandler was out telling the world about his Duke of Earl, Jerry Butler was hanging in there as the king of mellow R&B; the Four Tops, Supremes, Temptations and most of Berry Gordy's empire were still struggling to become established.
Rhythm and Blues was on the way out and America needed a change. The rough R&B was giving way to a breed of new acts and artists who, though retaining in the main their blues and gospel roots, were out to make a name for themselves singing and performing in their own way.
Labels signing soul acts sprang up like breeding rabbits and from Miami to Detroit new names were emerging. Jim Stewart and Estelle Axton saw what was coming and soon dropped their rock and country artists in favour of Carla Thomas, Otis Redding, Sam & Dave, Booker T.
Ed Wingate reactivated his pop labels and soon a new Ric Tic and Golden World complex sprang up with legends like Al Kent, Edwin Starr, Wingate Strings, Flaming Embers, Barbara Mercer and the Reflections; pop labels like Red Bird went out for girlie groups and Iko Iko and Gee baby became all the rage.
Some labels like the Stax organisation had it good and so did the Motown complex, churning out hit after hit. Some came in through the back door. Warner Brothers had had a good run up to the mid-sixties in terms of chart success in the States, and to a lesser extent in the UK.
The Everly Brothers had notched up top ten hits with Cathy's Clown (No.1 when WB went independent over here [in the UK] with their first release on their own label), they followed with Price of love (in 1965), Ebony eyes and Crying in the rain.
Bob Luman had sold well and even Kookie Burns had made it. Warner's needed a new label but without too much bread to spend at first. So in 1964 it was decided to latch onto the new 'soul' sound with a subsidiary label - Loma.
Warner President, Mike Maitland was impressed by the track record of old King Records producer Bob Krasnow, and he was asked to head the new label on a limited budget. "We had no money to work with, they (Maitland & Joe Smith) started the label and couldn't give me much of a budget; we had no promotions men."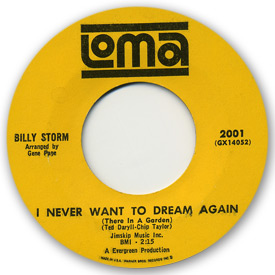 Despite a strictly limited income it was apparent that Krasnow was able to attract a host of famous acts and other music media into the Loma set-up, even if admittedly many were on their apparent decline at the time. However, by careful negotiating a healthy roster of artists was built up, and on August 23rd, 1964 the first release was issued – by Billy Storm (Loma 2001).
Even at this early stage it could be seen that Gene Page, Randy Newman and Chip Taylor were three names associated on that first release and all are BIG names in their respective fields. However it was not until the fourth issue that Loma even got a logo of its own.
One month after the first release Krasnow picked up from the local Lebam label (I was) Born to lose by The Singers (Loma 2002). This side, like the first, was not in terms of sales very successful.
Next to sign to Loma were ex-doo-wop group The Blue Jays, who had seen success previously with their Milestone release Lover's Island. Their only release was The Big Jerk (Loma 2003), produced by Krasnow and written by him and Gene Page. The 'Jerk' craze continued with Bob & Earl recording Everybody jerk (Loma 2004).
Loma also was able to pick up a few blues-styled artists and one of note is Lucky Carmicheal (Loma 2006) who has both sides of his first release represented in the seven-album set. Both sides were produced by Bill Sheppard, who later went on to run his own Bunky label with artists like Mill Evans and The Esquires.
The Bunky label has only recently been re-activated and a new deal has been signed with Motown to distribute the label. Bunky [Sheppard] is now working on the label and was recently at Motown as Vice-President of Promotion.
Reb Foster & The Rogues (Loma 2008), a local group, introduced Sonny Bono (or Bond as spelt on the label) as producer and arranger on their updated version of Chris Kenner's Something you got. His influence, along with his former partner Phil Spector, can be heard at intervals throughout the Loma catalogue.
Girlie group The Dolls were recorded in Texas by Dale Hawkins, the hitmaker of Suzie Q; the track And that reminds me (Loma 2036) is very Spector-ish. Another Spector group was the local rock outfit The Young Lions (Loma 2023). They were one time protégé's of Spector and he had recorded them way back in 1960.
Another of his artists was Delilah Kennebruew (Loma 2049), who is almost certainly Dee Dee Kennebrew of The Crystals.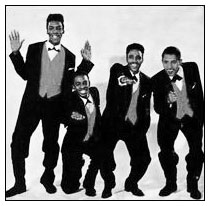 The tenth disc on the label was The Olympics I'm comin' home (Loma 2010), released right at the beginning of 1965. This record, with its gospel roots showing, didn't make it, but their next release Good lovin' in March 1965, was one of the label's better sales, even if it was stopped from being a national hit by the untimely cover by Atlantic's white Young Rascals.
The year 1965 saw Loma spreading its wings and luck was on their side when they managed to pick up Ike & Tina Turner, who at the time, were struggling to get the hits in. They'd been around a fair while and tasted a bit of success and the initial Tell her Iím not home (Loma 2011) was to establish them back in the charts, incidentally as Loma's first real piece of chart action. It was to see the light of day almost a year later in the UK on WB 5753 with Finger poppin' as the flip.
One more release, Somebody needs you (Loma 2015) followed before contractual obligations pushed the group back into the main label roster, after which they joined Philles to break worldwide with River deep, mountain high.
This site is not affiliated to Loma Records or Warner Bros Records, Inc. in any way and is intended solely as a tribute/fan site. Any and all enquiries about 'Discography of Loma Records' should be made through the contact link on the left. © 2007-2023. Discography of Loma Records. This site does not use cookies and gathers no user data.