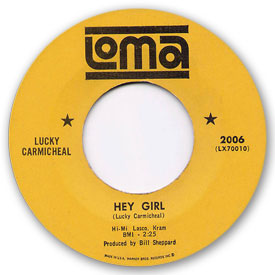 Time: 2.25. Catalogue: JX70010.
Writers: Lucky Carmicheal.
(Note spelling)
BMI.
Produced by Bill Sheppard.
Hi-Mi, Lasco, Kram.
Born 12th October 1920, in Harrodsburg, Kentucky, James Anthony 'Lucky' Carmichael released just three records during his career. According to the tome, The Blues Encyclopedia, that career didn't start until the early 1960's.
However, this is not the case. Lucky's musical career can be traced back to at least the mid 1950s. Even then references identify him as a professional band leader who toured with the travelling carnivals of the day, so we can be pretty confident that he was already a fairly seasoned musician by this time. Perhaps then, the authors meant that his recording career didn't start until he was this age, not his musical career.
Moving to Chicago in the late 50s or early 60s, and with introductions brokered by friend Bobby 'Blue' Bland, with whom Carmichael had played piano, he performed in local clubs, often with the Lefty Bates Band. One wonders then, if he did not occasionally work as a session musician with Lefty Bates or other musicians whom he came into contact with.
The tracks 'Hey girl' and 'Blues with a feeling' were originally recorded in Chicago in 1962 for the Pam record label. Carmichael's other two releases were for the Dillie label in 1960, and Shar in 1961.
On the face of it, it seems rather odd that Bob Krasnow, Loma's General Manager, would choose to pick up and re-release a 45 that had been issued two years previously. Was this simply down to the lack of resources given to Krasnow by the executives at Warner Bros?
If Warner Bros and Krasnow were serious about attempting to get a foothold in the popular music markets, releasing material that was not only old, but sounded 'old', was hardly a recipe for commercial success. On the other hand, perhaps Krasnow actually had his finger on the pulse of the music markets and sought to take advantage of the nascent Blues revival.
The following extract from Stephen Calt's excellent and insightful book I'd Rather Be the Devil: Skip James and the Blues offers an interesting perspective of the musical times:
The almost simultaneous rediscoveries of [Skip] James and Son House in June of 1964 were to mark the beginning of the blues "revival" as a paper phenomenon. A feature article in 'Newsweek' bore photos of both singers, along with an effusive tribute to them: "...these two were the only great country blues singers still lost," it claimed. "No wonder the excitement last week when it was learned that both Son House and Skip James were found."
Henceforth, blues would take on an exalted rhetorical media life in which the music would appear to be important and beloved. One who followed references to blues in popular and specialist publications would gain a completely different picture of the music than one who followed the sales figures of blues records, which to this day do not amount to one percent of the music market. In the 1920s, when blues had been virtually ignored by white society, the music had actually been far more commercially significant, thanks to its enthusiastic patronage by blacks. The blues "revival" of the 1960s actually represented the placement of blues upon a white respirator.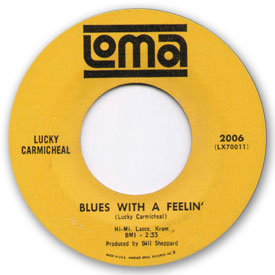 Time: 2:33. Catalogue: JX70011.
Writers: Lucky Carmicheal.
(Note spelling)
BMI.
Produced by Bill Sheppard.
Hi-Mi, Lasco, Kram.
Considering these songs - and the other blues-tinged releases that came out of Loma - in this "revivalist" light makes more sense as both 'Hey girl' and 'Blues with a feeling' offer the listener a style of the Blues more commonly associated with earlier decades.
Both songs were produced Bill 'Bunky' Sheppard, a Chicago-based music industry figure and label owner (the Pam label was his) who was a native of New Orleans, the Big Easy. On the sleeve notes to Volume 3 of the 'This Is Loma' series of LP's released in the UK in 1976, music commentator Clive Richardson speculates that the tracks in fact herald from New Orleans. However, it is perhaps more accurate to say that the tracks contain the spirit of Kansas City (where Carmichael had spent some time) mixed with the Blues of Chicago.
Although James 'Lucky' Carmichael never recorded again, he continued to perfom musically and as a Master of Ceremonies or MC. From Chicago he eventually wound up in Cincinnati, Ohio, where he died on 6th October 1982, just a few days before his 62nd birthday, leaving behind a widow and young son.
As a matter of trivia, Carmichael's release is the only one to feature a star on the 'A' or 'Play' side of the yellow label. Typically, the star was used on promotional copies with white labels, indicating to radio disc jockeys which side was to be plugged.
Insights into the musical career of William 'Lefty' Bates can be found in Robert Pruter and Robert L. Campbell's excellent exploration of the obscure 1950's R&B and Blues record label Club 51.
This site is not affiliated to Loma Records or Warner Bros Records, Inc. in any way and is intended solely as a tribute/fan site. Any and all enquiries about 'Discography of Loma Records' should be made through the contact link on the left. © 2007-2023. Discography of Loma Records. This site does not use cookies and gathers no user data.