Loma Records was set up by Warner Bros to cash in on the growing and lucrative market for 45s. Whilst the powerful entertainment corporation had a firm grip on the adult music market, and thus the 12" LP, it had no hold over the rapidly expanding teen sector and its insatiable need for the 7" single format, especially those featuring the increasingly popular soul and R&B sounds that were pervading the popular music charts nationwide.
Motown, Stax, Atlantic, King/Federal and others were riding the crest of a wave that in many respects they had helped create themselves. Seeing with presumably envious eyes the commercial successes these labels were having, senior executives at Warner's decided that it was time to join the bandwagon; perhaps more precisely, to jump on the soul train!
How strange then to launch a product with the core purpose of making money from this growing sector, but to not give it sufficient budget to finance a good crack at success.
What were the Warner Bros executives thinking when they hired an experienced music industry hand Bob Krasnow (formerly with King records) as general manager of the fledgling label? Did they actually have success in mind? Did they perhaps believe that taking money from young people was like proverbially taking candy from a baby?
Perhaps they just weren't serious about achieving real commercial success in this sector. Perhaps, as industry 'grown ups' they didn't take the teen markets seriously. After all, Warner's was the "Hit after Hit" film studio. They were in the business of making large scale Hollywood films and had at their fingertips a roster of silver screen stars; they were successful in providing adults with music from the likes of Frank Sinatra (Sinatra became a sizeable Warner Bros shareholder when his own Reprise record label was merged with Warner's music division in 1963), and entertained millions around the world with even bigger stars like Bugs Bunny!
They had made inroads too, into television and had great success with series like Maverick. Perhaps the executives at Warner's just didn't think that there was enough purchasing power in what was still, literally and figuratively, an immature market.
Whatever the reasons, Warner Bros failed as parents right from the start. Forgoing management nurturing and restricting their new-born musical offspring's ability to suckle on the life-sustaining and growth-giving milk of its parent's cashflow was guaranteed to produce a sickly child.
Loma's first 45, released in August of 1964, was by Billy Storm (I never want to dream again / Baby, don't look down), a singer whose career, as far as chart hits were concerned, had already blown itself out. Of the seven other records released by Loma in the last few months of 1964, at the beginning of its short life, three were tracks that had already been released on other labels having been licensed – one presumes cheaply – for Loma by guardian Bob Krasnow. Loma 2002 (The Singers – (I was) Born to lose / Midnight prowl – is probably the most mediocre release on the entire label and originally appeared on Le Bam a year before.
Why anyone would want to re-release these two sides of already-failed flat pop is a complete mystery. One would have expected that to get noticed among the young record buying public, Bob Krasnow would have wanted to make a dramatic impact and not offer something so insipid and instantly forgettable. One guesses therefore that as far as licensing was concerned, it was really cheap.
It gets worse...
Bob and Earl (Loma 2004) had a promising 45 lined up for release in the form of Everybody Jerk (Loma 2003 by Clyde and the Blue Jays was also a 'Jerk' song and thus shows that at least the label was trying to stay in tune with the current big dance crazes). However, there is no evidence that this 45 was ever released at all.
Curiously, and in an unforeseen twist of fate, Everybody Jerk would be released some five years later in both the UK and Germany when Warner's dug deeply into its back catalogue with the hopes of cashing in on the success of the re-released Harlem Shuffle, which became a Top-10 pop hit in the UK in 1969.
Gene Page produced both Harlem Shuffle and Everybody Jerk and earned credits on releases 2001, 2003 and 2004 in his first few months with Loma. Essentially then, Krasnow's first real significant label signing was not an artist or group of public note, but Page himself.
This hints at the idea that perhaps Krasnow had hopes of turning Loma into a 'hit factory' with the talent being behind the desk and consoles of songwriters and producers rather than in front of the microphone. If he did, he didn't succeed, as the rest of Loma's output for the year shows.
Loma 2005 featured Little Jerry Williams (I'm the lover man / Push push push), later to become better known as Swamp Dogg. Billboard magazine of 14 November 1964, reports that the song I'm the lover man is a "record to watch" or a "breakout" release (a record selling well nationally or regionally and thus with the potential to become a hit). Confusingly, the 45 is reported by Billboard as selling well for label Southern Sound rather than Loma. Indeed, the sides are available as a 45 on both labels, and it's been presumed by many that Loma licensed the tracks with the intention of giving it the national distribution that Southern Sound could not.
However, this "breakout" success is reported by R&B DJs at radio stations WYLD in New Orleans, WJMO in Cleveland, WHIH in Norfolk, KGFJ in Los Angeles, and KDIA in San Francisco, meaning that Southern Sound was distributing nationally and so didn't need that capability from Loma. Just to add to the confusion, the release came out on both labels at around the same time. There is a minor mystery here.
The next Loma 45, by the enigmatic blues performer Lucky Carmichael, had actually been released in Chicago on the local Pam label TWO years earlier. It was old.
The A side of Loma 2007, Come go with me by Sugar n' Spice, was a cover of a song made famous seven years earlier by The Del Vikings. The flip, Playboy 'borrows', very boldly and very blatantly, from the brass arrangement that made Betty Everett's The Shoop Shoop Song so catchy. Gary 'Monster Mash' Paxton produces both sides.
The eighth and final release of 1964 was yet another cover version, this time of Chris Kenner's Something you got. Loma 2008 was recorded by Reb Foster, a popular LA radio DJ (broadcasting variously out of KFWB & KRLA) and music promoter who would go on to greater things through his associations with bands such as The Turtles, Steppenwolf and Three Dog Night.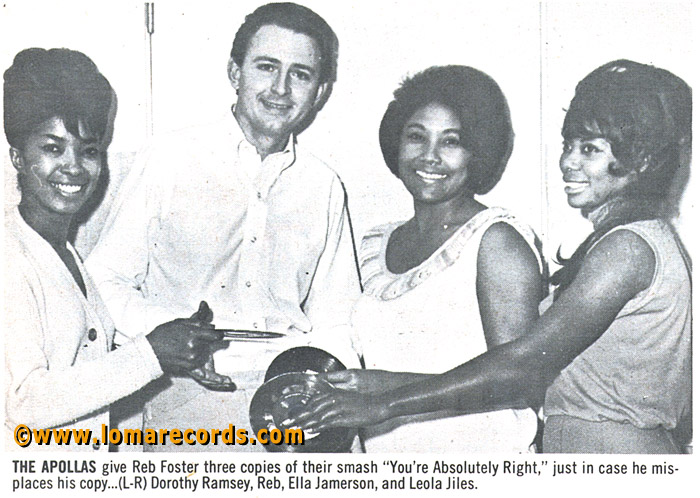 Bearing in mind the 'scratch-my-back' nature of the record industry at that time, one wonders whether studio time was offered in return for radio time: whether indulging Foster by allowing him to cut his own 45 was seen as a means of securing more favourable exposure for future releases over the LA airwaves. Why else should a radio DJ, and very obviously one lacking in any real singing talent, be given a release? To reinforce this unsupported notion, it's interesting to note that the flip to his Loma release is an instrumental (Quetzel and Jude - credited as being performed by The Rogues, who were probably Loma/WB session musicians) and thus doesn't feature the vocally untalented Foster at all.
Of note on this 45 is the producer of both sides – Sonny Bond. Embarrassingly for Loma, the surname is spelt incorrectly (one of a handful of typographical errors made by those responsible for setting Loma labels) and should actually have read Sonny Bono.
That then concluded 1964, the first year of Loma's short life. Surely things would improve with the arrival of 1965?
Think again...
The first release of the new year was a rendition of Shirley Bassey's big-voiced James Bond theme tune Goldfinger. The film was a box office smash in 1964, so Krasnow would have been working on the basis that holding on to the tails of Bond's dinner jacket would offer a good chance of success. Except that Loma being Loma, Krasnow didn't find an equally big-voiced female to take on the daunting vocal challenge set by Bassey. Instead, unbelievably, he sent in a man.
Step back up to the microphone please, Mr Billy Storm...
To be continued...
Click on individual songs for quality record scans and label data.
2001: Billy Storm
I never want to dream again / Baby, don't look down (Sept 1964)

2002: The Singers
(I was) Born to lose / Midnight prowl (Sept 1964)

2003: Clyde & The Blue Jays
The big jerk pt1 / The big jerk pt2 (Oct 1964)

2004: Bob and Earl
Everybody jerk / Just one look in your eyes (Oct 1964)

2005: Little Jerry Williams
I'm the lover man / The push push push (Oct 1964)

2006: Lucky Carmichael
Hey girl / Blues with a feelin' (Nov 1964)

2007: Sugar n' Spice
Come go with me / Playboy (Nov 1964)

2008: Reb Foster
Something you got / Reb & the Rogues - Quetzal and Jude (Dec 1964)
This site is not affiliated to Loma Records or Warner Bros Records, Inc. in any way and is intended solely as a tribute/fan site. Any and all enquiries about 'Discography of Loma Records' should be made through the contact link on the left. © 2007-2023. Discography of Loma Records. This site does not use cookies and gathers no user data.