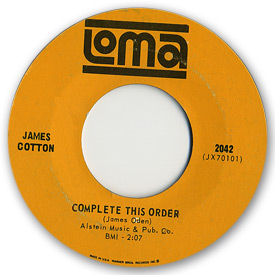 Time: 2.07. Catalogue: JX70101.
Writers: James Oden. BMI.
Alstein Music & Pub. Co.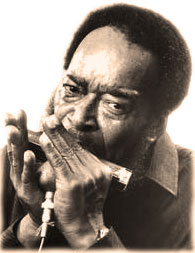 Released on Loma in May 1966, this record marks a significant turning point in the life of James Cotton as it was his first solo outing after serving eight years with Muddy Waters at Chess.
Complete this order is an imaginative, gravel-throated and gospel-inspired blues of the highest magnitude, and both sides of Loma 2042 have a distinctive Chess sound and feel. According to The Blues Discography 1943-1970, James Cotton is supported by Sammy Lawhorn on guitar and Sam Lay on drums.
Sammy Lawhorn (b: Little Rock, Arkansas, July 12 1935, d: April 29 1990) spent nine years with Muddy Waters from 1964 onwards. Although exceptionally talented, he was a cronic alcoholic and apparently it was not unusual for Lawhorn to collapse in a drunken stupor whilst performing with the band!
Sam Lay (b: Birmingham, Alabama, March 20 1935) is revered as one of the best drummers in the blues genre. He first started playing drums at the age of 14, and his musical prowess made him in demand with the most prominent names in the blues world, including Muddy Waters, Howling Wolf, Little Walter and Paul Butterfield.
Appearing as drummer on something like 40 recordings on the Chess label, Lay performed with Bob Dylan at the Newport Folk Festival in 1965, and features on Dylan's album Highway 61 Revisited. He has been inducted into not just the Blues Hall of Fame, but also the Jazz Hall of Fame and the Rock and Roll Hall of Fame.
The song Complete this order was written by 'St Louis Jimmy' (James Burke Oden - b: June 26 1903, d: December 30 1977), a gifted blues musician hailing from Nashville, Tennessee, who played piano for many years with Roosevelt Sykes, and is probably best remembered for his song Goin' down slow. Indeed, Sykes recorded Complete this order with St Louis Jimmy (Oden on vocals, Sykes on piano) in 1950 or 1951 for the Regal label.
On Loma 2042, we hear James Cotton charging a woman with tasks of biblical-proportion so that she might prove her love to him. Unlike the original Oden/Sykes version, which offers a slow and calmly delivered narrative, Cotton's interpretation is both rasping and forceful.
What stands out in both versions are the wonderfully imaginative lyrics, which bring forth a hurricane of cynicism: it becomes obvious to us that the singer doesn't believe that the woman in question loves him at all and the only way he will be convinced is if she fulfils the extreme demands laid out.
Possibly it could be argued that the protagonist doesn't want to be loved by this particular woman at all, as by making his extreme demands he places his heart entirely out of her reach. Here is a sample of those wonderful lyrics:
Now here's just a few things that I want you to do
And then I'll believe your love for me is true
I want you to bring me the ashes of the Hebrew children that was cast in the furnace of fire
I want you to bring me the stone that David throwed and killed the giant Goliath
Bring me the fingers from David's hand he used to play his harp
And bring me a piece of the wood that Noah used to build his ark
And bring me the belly of the whale they said poor Jonah slept in
And bring me the shirt from Daniel's back when he was thrown in the lion's den
Here's just a few things that I want you to do
When you complete this order baby, I'll believe it's me and you really do love...
Hmm, seems a tad unreasonable in his demands, don't you think? Whatever, the old cliche of "they don't write them like that any more" certainly rings true!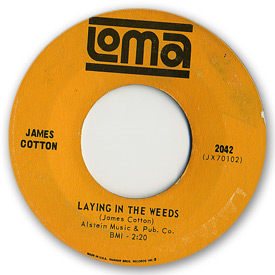 Time: 2:20. Catalogue: JX70102.
Writers: James Cotton. BMI.
Alstein Music & Pub. Co.
Laying in the weeds is a long-forgotten 100mph steam train of a harmonica blues romp, a veritable showcase for James Cotton's talents. Possibly Cotton recut this track a few years later as the author recalls hearing what he thought was this song being spun by former Manfred Mann frontman, Blues aficionado and BBC Radio 2 DJ, Paul Jones on the airwaves in the late 1990s (possibly on Jazz FM, a UK radio station that lost its way and which, before drowning in its own sea of mediocrity, changed its name to Smooth FM - say no more!).
However, when Paul Jones announced the song, he didn't give it the title of Laying in the weeds. Rather, it was something different. Any ideas, dear reader?.
If James Cotton did record it again, who can blame him? Both sides of this marvellous 45 ought to have had more attention than they got from Loma, yet for reasons unknown the record had a restricted release and was distributed only in Chicago (although apparently at the time it was played heavily on AFN Europe by KGHJ DJ Herman Griffith whose shows were being broadcast out of Los Angeles). Certainly, the restricted release story would help explain the record's obscurity as it is one of the more difficult of all Loma releases to track down today.
Curiously, both tracks did gain some limited exposure in the UK when they were featured on a compilation LP called Blues Chicago Style (PLP-KM17), which was put out in the late 1960s by Python Records, an obscure label specialising in issuing (possibly 'unofficialy') American Blues material. Python Records was based in Carshalton, a 'white collar' commuter suburb of London that is about as far removed from the Blues of Chicago as anything could be!
For more insight on that label visit the informative Python Records discography.
This site is not affiliated to Loma Records or Warner Bros Records, Inc. in any way and is intended solely as a tribute/fan site. Any and all enquiries about 'Discography of Loma Records' should be made through the contact link on the left. © 2007-2023. Discography of Loma Records. This site does not use cookies and gathers no user data.